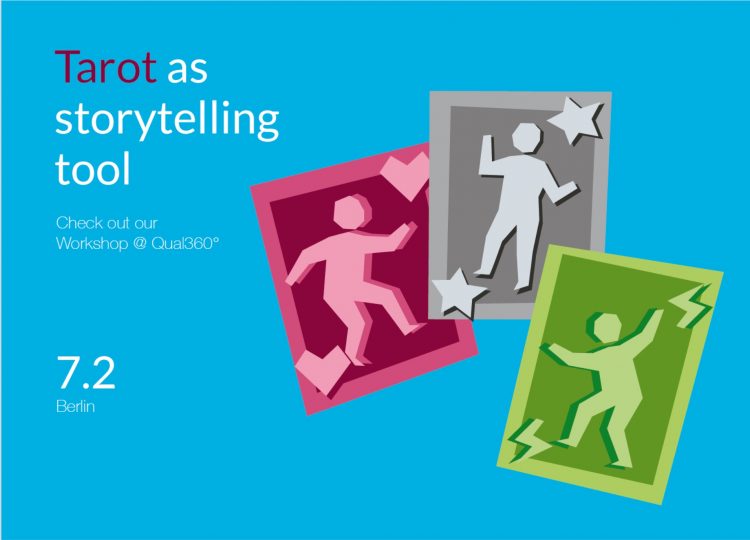 Understand – Play – Dream: Tarot as Storytelling Tool
In Conferences
And now for something completely different: We invite you to join us at this year's Qual 360 Conference in Berlin (Feb 7 & 8), where Christoph, our head of Consumer Research, and Tarot-expert Katerina Pavlou, will host an interactive workshop on Tarot for Researchers.
Yes, you read that right. But fear not, we will not make any attempts at fortune telling tricks – nor do we preposterously claim to know anyone's future. But we do contend that we can collectively imagine a potential future through storytelling. And this is where the Tarot comes in. Let us take you on a journey through the lesser known philosophical heritage of this very old card game – and how we can use it today as a creative tool. There will be a bit of Aristoteles, a bit of Quantum Theory, nods to Jung and Freud, and no boredom.
The motto of this year's Qual360 is EVOLVE AND TRANSFORM – so let us collectively imagine own own evolution and transformation as researchers, and challenge the ways we traditionally think and act.
Engage in a playful and fun session about the transformative power of research
Learn the basic principles of Tarot as a playful storytelling approach using cultural archetypes
Envision ideas for the future of research
Join us: Qual360, Berlin, 7th February, 1:30 pm to 2:30 pm, main room
Interested? Learn more about this years qual360 in Berlin:

On the 10th of May we invited clients and partners to our new office space in Berlin-Mitte. Initially, we just…

On the 25th January 2019 our Head of Design and Innovation Jork gave a talk at the "4 Design…

It's Congress Time! Every September, the big Traveling Research Circus that is Esomar Congress is visiting a new city, and…